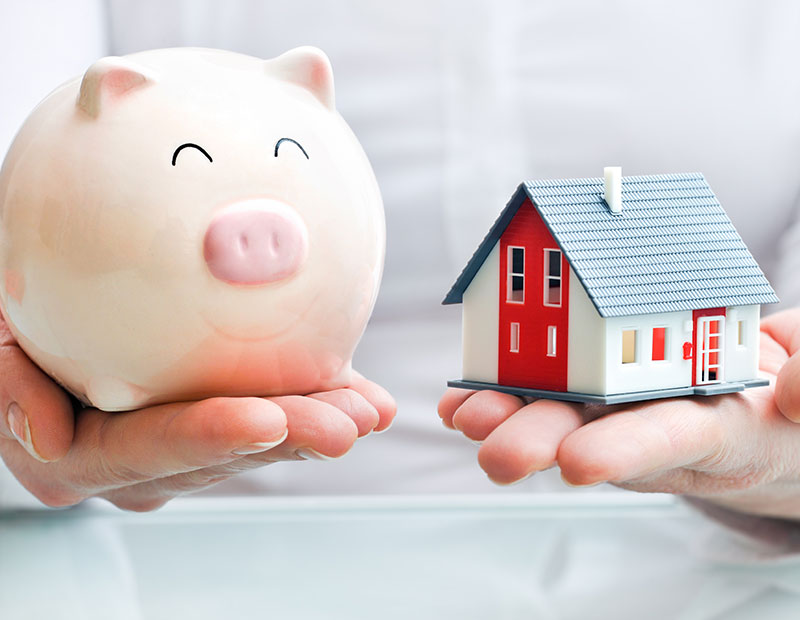 Tweet
Purchasing a home without having saved up a down payment is possible
"Zero Down" mortgages became available in Canada in 2006, providing an easy way for long time renters to become first time home buyers during a period when home prices were jumping nearly every week. The program was suspended in 2012 though, as a response to the global financial recession, and fears surrounding household debt, and real estate values in Canada.This article will provide you with information regarding mortgages that are still available to Canadians looking to purchase a home without having saved up a 5% down payment themselves. In order to reduce household debt, and insulate real estate values while still affording Canadians the ability to purchase real estate, the Mortgage Insurers, Lenders and Federal Government came up with a solution, involving reintroducing a down payment requirement. At present, a 5% down payment is the minimum requirement needed for getting a CMHC or Genworth Insured Mortgage in Canada. However, there are still 2 options within the 5% Down Program that allow for Canadians to purchase real estate without having saved up the full 5% down payment themselves.
1. The Flex Down Mortgage.
The Flex Down Mortgage allows for homeowners to use borrowed funds for downpayment. The borrowed funds can come from a loan, line of credit, credit card, or any other form of documented debt that would not be registered against the title of the property being purchased. The benefit of this program is that it allows for potential home owners become first time home buyers quicker, and therefore be able to take advantage of increasing property values, and low mortgage interest rates, while avoiding rent payments sooner than they would if they had to save up for a down payment. Even with the cost of the borrowed 5% down, the program could still be cheaper than renting. Imagine a situation where someone were comparing continuing to pay $2,000/month rent vs purchasing a $350,000 home. Let's compare the total costs:
| | | | |
| --- | --- | --- | --- |
| OWNING |   | RENTING |   |
| Item | Monthly Cost |   |   |
| 5% Down Payment* | $211.12 |   |   |
| Mortgage Payment** | $1,477.27 |   |   |
| Property Tax*** | $250 |   |   |
| Total Monthly Payments | $1,938.39 | Total Monthly Payments | $2,000 |
  As you can see from the above example, in terms of monthly expenditures, even with paying for the 5% down payment, the homeowner is actually saving $61.61/month. If we drill deeper to examine the principle being paid down with each monthly mortgage payment, and a 1.5% annual property value increase, the savings become even greater:
| | | | |
| --- | --- | --- | --- |
| OWNING |   | RENTING |   |
| Item | Monthly Cost |   |   |
| 5% Down Payment * | $211.12 |   |   |
| Mortgage Payment** | $1,477.27 |   |   |
| Property Tax*** | $250 |   |   |
| Total Monthly Payments | $1,938.39 | Total Monthly Payments | $2,000 |
| Principal in Mortgage Payment | $ (865.51) |   |   |
| Property Value Increase | $ (437.50) |   |   |
| Net Monthly Cost | $ 635.38 |  Net Monthly Cost |  $2,000 |
  When drilled down, you can see that the net difference between Renting and Owning with a borrowed down payment becomes even more dramatic, with owning a home being $1,364.62/month cheaper than renting! Over the course of 3 years, these savings would add up to $49,126.32 in Home Equity and Monthly Payment Savings!
One really important thing to note when comparing the savings/costs of renting and owning, is to factor in the costs of things that CAN come along with owning a home, like:
1. Repairs
2. Renovations
3. Real Estate Fees if/when you sell
4. What rates might look like when you renew. If rates rise dramatically, you could see your mortgage payments move up too.
2. Gifted Down Payment
A gifted down payment is a non-repayable gift given by a direct family member to someone purchasing a home. As these funds don't have to be saved up by the person purchasing the home, and applying for the mortgage, this provides an excellent alternative, allowing for first time home buyers to purchase property sooner. Other sources of down payment include:
RRSPs – as a first time home buyer, Canadians are able to use their RRSPs for down payment
Selling Assets – ATVs, collectibles, vehicles, campers, etc.
The above listed down payment options can be used in conjunction, and any combination****, along with one's own personal savings, helping qualify for mortgages, and purchasing a home. Zero down payment mortgages are in some ways still available, as discussed above. For more information regarding Flex Down mortgages, Gifted Down Payment mortgages, or other mortgage related questions, contact Alberta Mortgage today.
*5% down payment of $17,500 being calculated at 8% with a 10 year amortization  **Mortgage payment calculated on a $342,973.75 mortgage at 2.15% with a 25 year amortization ***Monthly property tax calculated on a $3,000 annual property tax bill ****subject to qualification criteria