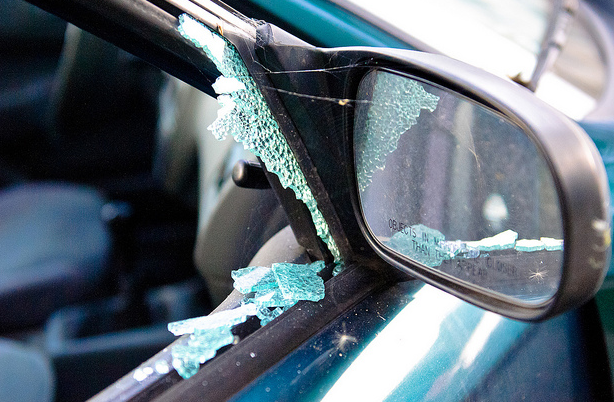 How a broken door glass reminded me of how valuable mortgage brokers are
Two weeks ago, I parked my car on the street in downtown Edmonton. Rather foolishly, I left my gym bag on the passenger seat of my locked vehicle, and came back to a smashed passenger seat window, and a missing gym bag. At first, I didn't even know what to think, aside from the fact that the thief must have been terribly disappointed to  have come away from the burglary with nothing more than old gym shoes, sweaty clothes, and most unfortunately for me; my favorite water bottle. 
I cleaned the broken glass off the seats, and brushed away the many small shards that had found themselves all over my car, and drove back to my office knowing that I would need a new window. Like almost all of us know, I knew that I wasn't going to get the lowest cost window from the dealership I purchased the vehicle from about a year and a half ago. So instead instead of contacting the dealership, I went online, and began looking for 'auto glass repair' shops here in Edmonton. After viewing the list of repair shops on Google, I decided to start calling around, and get a quote. Within about 15 minutes, I had been very friendly quoted a price of $215 by an independent auto repair shop located a few blocks from my office, and told that I would have the door glass replaced with the identical quality glass by the end of day. I was happy with the quoted price, and even happier to hear that my car would again be weatherproof by day's end -so I booked the service.
Just for fun, I decided to call the dealership from which I purchased the car and find out how much the job would cost, and when it could be done. I called the dealership, asked for the service department, and immediately was placed on hold. After a few minutes, I was on with the Service Department, quoted $600 for the replacement of the window glass, and advised that the parts would not come in for 4-5 days. I was happy to have chosen to have the work done by the small, independent auto glass shop that was fighting to get my business, instead of the always 'busy enough' dealership.
After I had gotten off the phone, I sat and reflected on my moment of frustration. I then found myself in a discussion with another member of the office here about how I couldn't believe that 'my dealership' was charging me nearly three times as much for doing the same job, and taking four to five times as long to do it as an independent auto glass repair shop. I was saying almost the exact same things to my colleague as so many of my clients have to me -except my clients were talking about a mortgage and 'their bank,' while I was rambling on about a piece of glass and 'my dealership.'
For over a decade working as a mortgage broker I've know our value, but this was the first time I was able to extend that understanding to other consumer products, and services. As independent parties in the transaction of financing someone's home, we provide our clients with independent information about the many different home financing products available here in Canada, much like the independent glass repair shop was able to source multiple types of glass to come up with an extremely competitive price. We aren't tied to any one bank/financial institution, which means that when our clients are looking for financing, we are able to search the market for the best overall financing solution for that client -and not just try to 'sell' one of the few options that a branch would be forced to push.